Producer Spotlight: Boonville Barn Collective
Posted on August 05 2020
Krissy Scommegna, founder and owner
Photo Credit: Boonville Barn Collective.
Nacho Flores, farm manager
Photo credit: Boonville Farm Collective.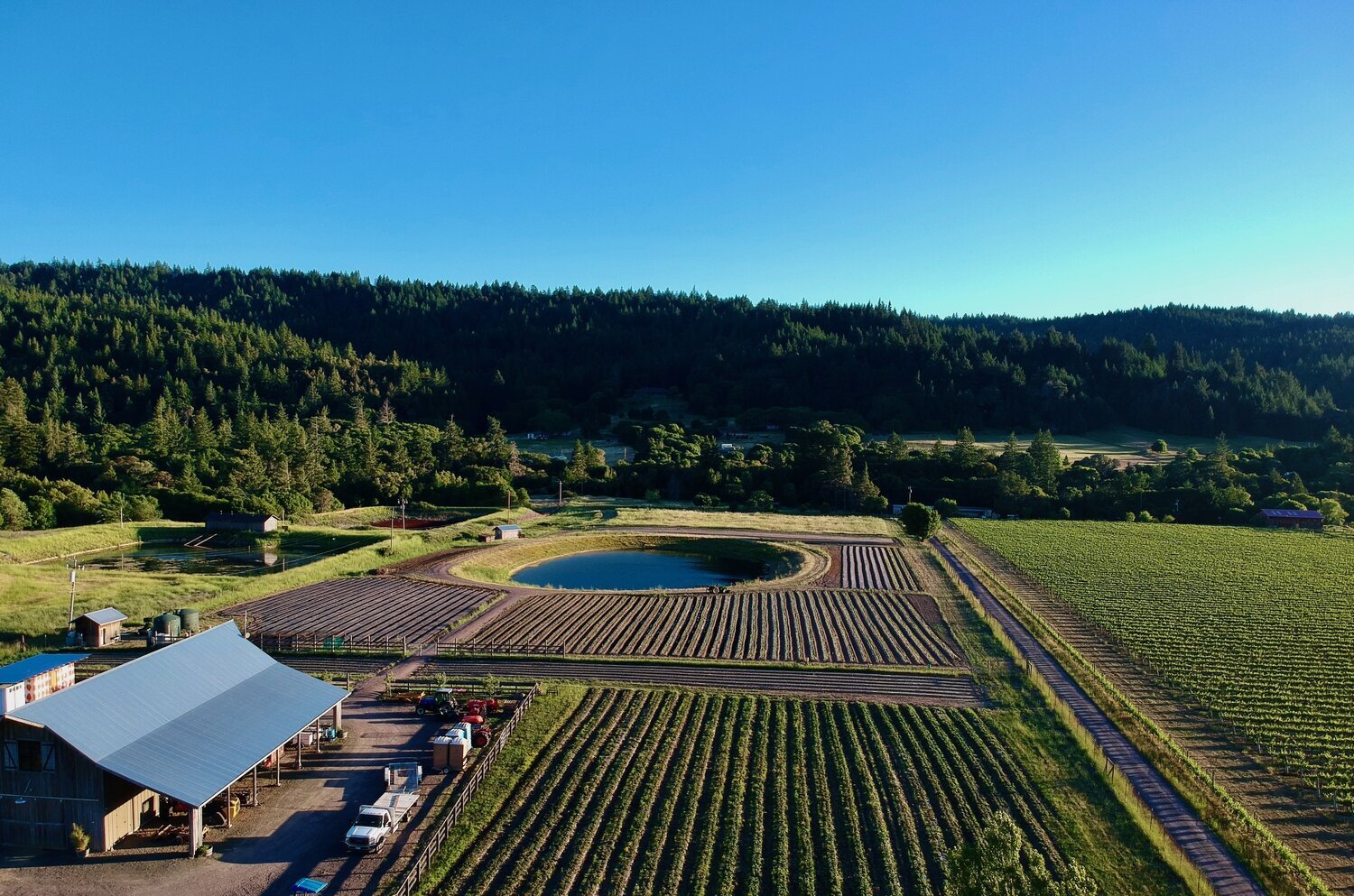 Aerial view of the farm.
Photo credit: Boonville Farm Collective.
How a French pepper, grown in California, became a staple in our spice cabinet.
In 2011, Krissy Scommegna was working in the kitchen at the Boonville Hotel and Restaurant—a charming, modern day road house located in California's Anderson Valley. This is where she had her first encounters with piment d'espelette, a variety of chile that's predominantly dried and ground as a spice and grown specifically in the Basque region of France. As far as chilies are concerned, it's not a pantry staple in American households, like paprika or cayenne—not yet, at least. But it's versatile, with a moderate heat that won't burn your tongue off and an endearing sweetness that makes it adaptable in many recipes. It's often overlooked in the US due to its relatively high price point as a specialty, imported ingredient, but in the kitchen at the Boonville Hotel, Scommegna recalls that they used it as often as they could afford to.
"We used it to season any kind of meat. There's also a local goat cheese creamery here in town. When we'd serve their cheese, we'd always mix a little bit of piment d'espelette in with the cheese along with a little bit of lemon and salt to flavor it," she says. But their signature recipe, and one of the first things she learned how to make, was their legendary chile cream sauce. 
"It's a basic cream sauce, but the flavor that the piment d'espelette gives the sauce is almost cheesy. And you can change the heat level by adding more or less of the chile powder. But it's just a really approachable and delicious way to amp up lots of dishes. It would be our way to garnish at the end if we needed a little something else."
Everyone at the Boonville Hotel was impressed with the flavor profile of the espelette pepper. Unfortunately, the high cost of importing them from France often prevented the kitchen from using it as liberally as they would have liked in their cooking. At that point, Scommegna, whose family had owned a vineyard in Boonville for the last two decades, wondered: Could they grow it locally?
The climate in Mendocino County, where Boonville is located, is not unlike the conditions that exist in the Basque region of southern France, where the piment d'espelette is native. In fact, these ideal conditions are what has secured Boonville an impressive reputation for growing French grapes like pinot noir in recent years. 
To lead the trial, Scommegna reached out to Nacho Flores, the farmer who had been managing her family's vineyard for a year at that point. Flores was no stranger to peppers. Hailing from a long line of farmers from Michoacán, Mexico, his family had been growing native crops like peppers, corn and tomatillos for generations. Flores himself took up farming responsibilities when he was just ten years old. When he came to the United States in 1997, he recalls having the opportunity to take up other types of work, like construction, "but farming was in my blood. I blame the fact that my family's been farming for a long, long time." 
Flores has over three decades of experience growing peppers, but until the espelette, he had worked primarily with Mexican varieties: jalapenos, serranos, poblanos. The espelette was something new. "It was a little bit different because I think it had to adjust to the new climate," he recalled. "And because we're organic, we had to work a little more, to be smart about water, and how to treat the nutrient deficiencies."
Flores launched the first trial of espelette peppers with just fifty plants, which were planted in the ground in June, and harvested in September. It was a success. Kitchen staff at the Boonville Hotel could finally use this highly coveted chile with an unprecedented level of freedom. The result led Scommenga to wonder whether other chefs might also be interested. 
Boonville Barn Collective, a seven-acre property straddling a two-lane highway, is now a fully functioning chile farm that grew 60,000 chile plants last year alone, making it one of the largest producers of espelette chilies outside of France. Theirs is a tight knit operation that gets by with a full time staff of four. Scommegna and her fiancé Gideon Burdick manage the sales, marketing and business administration; Nacho Flores as foreman, and his right hand man, Martin Flores (no relation), tends the farm.
Three acres of the land are devoted exclusively to growing espelette, though because piment d'espelette—similar to Champagne—can only be sold under that name if it's actually grown in the town of Espelette, France, Scommegna markets her product under the cheeky moniker: Piment D'Ville. The pepper of Boonville.
In all directions surrounding the farm are vineyards - making Boonville Barn Collective one of the few growers in the region stewarding something other than grapes, and bringing some diversity back into the landscape (which used to be a historic apple growing region). 
Understanding how the heat in a chile develops over time, both on and off the plant, helps the Boonville Collective team capture them at different flavor profiles. "Peppers are a really jealous plant," says Flores, only half joking, "They're really delicate to cold. They love calcium. You have to learn how to read the plants without having a lab test."
Typically, the spiciest chilies—the ones we at Curio Spice love most—are the first to come off the plant. These are prepared (stems and seeds removed) and placed directly in the dehydrator for 24 hours, before being ground and packed. To achieve a sweeter flavor, however, chilies are left to sit in the greenhouse drying rack for about 10 days before being placed in the dehydrator. This way, they will have time to cure and the sugars evolve. 
In September 2019, Scommegna and her fiancé Gideon decided to make running Boonville Barn Collective a full-time job, with a mission of expanding the business. More recently, they have added other chilies, which they sell dried and crushed, like comapeño and poblano. They also have 3,000 strawberry plants, 500 olive trees, and produce five different kinds of heirloom Italian white beans. But Scommegna says her chief goal is to bring the espelette pepper into the pantry of chefs and home cooks across America. 
"This might be a Basque chile from France, but we're trying to make it more of an everyday staple," says Scommegna. "Once you start using Piment D'Ville, you start understanding its total versatility and flavor. It's not just for that black pepper flavor. It's not just a chile flavor. It adds a nice depth and complexity to food when you cook with it. But it can also be used as that finishing spice to amp up the flavor in a different way."