Covid-19, Broccoli Salad, and the Pan-Continental Spice Trade
Posted on October 26 2020
It's early spring. The birds are chirping. The ice is melting. But other than that, nothing is normal. The virus is spreading. Restrictions and shutdowns are just commencing. 
And amidst the havoc, Bon Appetit releases its March issue, featuring a recipe for Broccoli Salad.
"We couldn't figure out why, in April, we were getting so many orders for our blend of Ras el Hanout," Claire recalled. "They seemed to come out of nowhere, and I had to keep scouring the internet for mentions, to understand where they were coming from. Finally I figured it out."
Bon Appetit's broccoli salad recipe called for just two teaspoons of this fragrant, North African blend. But since the click-through link on the recipe led readers to Curio's online store (and given it's not exactly a cabinet staple for most Americans), adventurous home chefs who were stuck at home in quarantine, yet eager to try something new were ordering it in droves. For about a month, like little spice elves, we found ourselves scrambling to meet the enormous increase in demand.
As far as blends are concerned, Ras el Hanout is a great one and it's exciting that, thanks to Bon Appetit's recipe, so many were eager to try our version of it.
Translating to "top of the shop" in Arabic, the exact combination of spices differs from store to store, but common blends combine earthier tones like cumin, coriander, and black pepper with warm ones like cinnamon, allspice, and ginger. Ours adds some rare and unusual spices to the mix, like saffron, fennel pollen, rose petals and orris root (a type of iris) to achieve distinct floral notes; and three different types of pepper (Indonesian  cubeb, Ghanaian grains of paradise, and Cambodian white peppercorns). 
The influx took our eight-person team completely by surprise, still grappling with the fear surrounding the virus, as well as the shift entirely to e-commerce. "I was so impressed with how this little handmade place survived the volume and demand that we got," recalled Maité, our front-of-house manager. Our production and operations teams toiled behind the scenes to ensure a steady supply of stock. It was pretty much all hands on deck. 
Photo credit Steve Bennett www.stevebennett.com
"Physically, we are stamping the bags. We are printing the stickers. We are then applying them to the bags. We're opening them. We're filling them. We put the lid on jars by hand. We also put the sticker around it, the batch code underneath. And not to mention, everything that the bags are getting filled with—as far as blends are concerned—is being made in-house." 
We even brought on a new employee, Miranda, to help handle the output (and a few more since then, too). Her experience working at Curio has been one which has transpired exclusively in this new Covid context, in which e-commerce plays the starring role (combined now with some local pick-ups from the shop). While the transition was a shock for employees who had grown accustomed to the pre-Covid workflow, "as someone coming on board after the transition from brick and mortar retail to online only, I am learning things as they are now, for the first time rather than having to learn a new way of doing something," she commented on the experience. "It makes things slightly less bewildering I think!"
Eventually, at some point in late April, we made the game time decision to close the online store for three days to restock and redesign some of our systems to be more efficient. It was a nerve wracking decision for a small business during a pandemic, since you always feel like you're operating on borrowed time.
But those plans were swiftly foiled: Bon Appetit gave our spices another big vote of confidence in their article "Where You Buy Your Spices is Just As Important As How You Use Them," the response to which nearly crashed our server!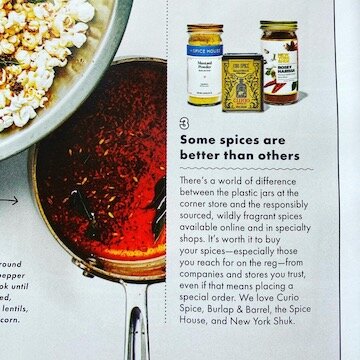 For the first time, we found ourselves with a queue of orders we couldn't easily plow through in a day or two. At one point, the wait time just for fulfilling an order was nearly two weeks long.
"It's just kind of a low-level stress that you feel," observed Sam. "Like, going home at the end of the day and seeing that there are still hundreds of orders in the queue when we were used to clearing it every day. We had to kind of redefine our definition of being caught up, or being successful, or being accomplished for the day because it was not what we're used to."
We're still trying to figure out what exactly was behind the surge in demand from those spring months, but what's clear is there is a lot about the spice trade that makes it resilient to some of the economic transformations that have taken place since the start of the pandemic. (After all, spices—being one of the first pan-continental trade circuits—have long been known to weather less-than-ideal conditions!) 
For one, when you literally can't travel anywhere else, spices let you travel the world with your tastebuds. That's something we've always known, but it's been cool to see others embrace this aspect of the spice world, even if it has been a bit overwhelming. And being a shelf-stable category in food retail hasn't hurt. Spices tend to hold up well in shipping with quite minimal packaging. This would have been much harder to do if we were selling, say, produce, a more perishable food category with a very different shelf-life and which bruises easily when shipped.
Moreover, as news emerged that food supply chains the world over were falling apart, we found our emphasis on dealing with spices that were sustainably sourced from independent vendors put us at a competitive advantage. Not because they're easy—but for the very reason that they are hard. "I mean, a lot of our inventory ships here by boat. We're used to it taking a long time!" said Claire, "We have to be prepared for hiccups, to plan ahead. I feel like that is par for the course. And because we're so small, I have to do a lot of leg work back and forth to convince suppliers to work with us. Or to work with smaller suppliers, get them set up in order to ship overseas. So we've built those kinds of hold-ups into our model."
(There was at least one occasion, however, where even those supply chains fell victim to the Covid hysteria—like the time a Turkish imam made the false claim that sumac was a cure for Covid-19. Our supplier was sold out of Turkish sumac for over a month.)
Also helpful has been our emphasis on local supply chains. Somewhere around 15% of our stock is locally sourced, which is pretty unique as far as the spice trade is concerned, considering it is such a global marketplace. "Being able to get sea salt from Martha's Vineyard, shiitake mushrooms from Maine, rosemary from Massachusetts and things like that, which we actually go through quite a large volume of… I was so grateful for our business model and being able to have so many local relationships," reflected Claire.
As society shifts to virtual consumption, it's always good to take a moment to remind ourselves about the work it takes behind the scenes to make food possible, since on the consumer end, the experience is only growing more detached: Just a few clicks, and bam, the end result is at your doorstep in a few days. E-commerce has a way of abstracting lines which once seemed clearly drawn in the sand (like the line between open and closed, on and off, working and not working), since customers are ordering and writing in with questions at any hour of day or night from anywhere in the world. As a small company that does most things by hand and is still growing, managing the influx that accompanied this new one-click consumption has been and continues to be a learning curve.
"That level of output that we were doing was honestly kind of insane," recalled Sam about the mass of orders we received early on. "After all, we don't have an automated order fulfillment system—our staff are the system."
This is part two in our behind-the-scenes glimpse into how Covid-19 has affected our workforce and supply chains. Read part one here!